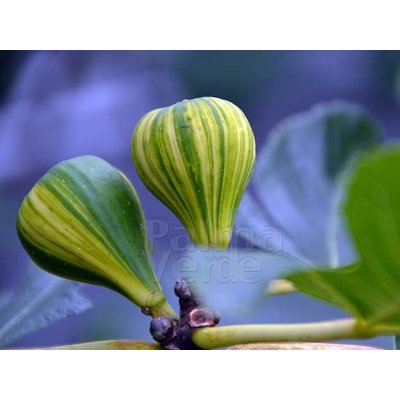 Eetbare tuin-edible garden

:

Ficus carica Panache - Tigerfig

FICCAPA01
Availability:

In stock

Shipping within:

3 to 5 business days
Ficus carica Panache or tigerfig gets fruits with a beautiful green peel with light yellow vertical stripes, very nice fig ...
More information
Product description
Article number:

FICCAPA01

Availability:

In stock

Shipping within:

3 to 5 business days
Ficus Carica Panache gets fruits are delicious to eat and have a very tasty sweet taste.
They grow up early, namely in August. The skin of the fig is very attractive, green colored with vertical pale yellow stripes.
Fig trees can be kept in a tub as well as in the ground floor.
Pruning takes place in spring if necessary, then downgrading dead points to 1 or 2 knots.

Ensure an open bush that the light can reach the stonework everywhere.
Present green fruits for the invasion of winter can be picked.
These do not survive the winter. In winter, the ground has a layer of tree bark to protect the roots against the frost.
If you keep this fish in a tub, win this frost free so that the roots do not freeze.
Winter hardness zone 8a (-10 / -12ºC).
Specifications
Minimum temperature:

-10/-12ºC

Location:

Sunny, light shade

Soil type:

No special requirements

Water requirement:

Light damp

Full ground:

Yes, protection in case of severe frost

Tub plant:

Yes

Flowering period:

n/a

Origin / habitat:

Italy

Growth rate:

Reasonably fast

Maximum plant height:

2-4 meters (Toward pruning also to be kept at 100/150 cm)