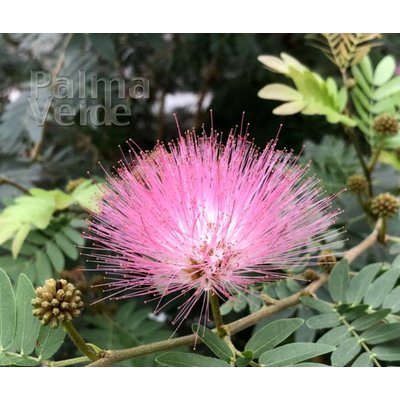 Bloemen-flowers

:

Calliandra haematocephala - Powderpuff

CALHAE01
Availability:

In stock

Shipping within:

3 to 5 business days
Calliandra haematocephala ot Powderpuff is a beautiful container plant is evergreen and blooms from May to the end of October with pink / red flowers ...
More information
Product description
Sorts:

Bloemen-flowers

Article number:

CALHAE01

Availability:

In stock

Shipping within:

3 to 5 business days
Calliandra haematocephala also named Powderpuff belongs to the family of mimosaceae. The Albizia and Mimosa, for example, belong to the mimosaceae. Originally comes this exotic tub plant from Borneo.
The Calliandra haematocephala is a beautiful evergreen tub plant.

The very rich flowering is amazing, the pink / red fluffy flowers appear in April / May and the flowering continues until the end of October. The abundant and fragrant bloom is the main point of the popularity of this tub plant.
The young leaves are copper colored and discolored to fresh green in the course of spring.
The Calliandra can grow into a tree trunk of more than 4-5 meters in the wild. The Calliandra tweedii grows to a maximum height of 150 cm and can be kept smaller than 1 meter by pruning. You can fertilize this tub plant from May to September every two weeks with, for example, dried cow manure pellets or 1x per month with a little Fertilizzante Mediterraneo .

During the winter the Calliandra no longer needs fertilization. Do water regularly and overwinter at a temperature of at least + 6 ° C.
In the spring from May the Calliandra can go outside again in a warm place preferably from the wind in a warm place for rich flowering. Pruning if the plant grows too large is best done immediately after flowering.
Winter hardiness zone 11 (+ 6ºC).
Specifications
Minimum temperature:

+6ºC

Location:

Sunny, half shadow

Soil type:

No special requirements

Water requirement:

Normal

Full ground:

No

Tub plant:

Yes

Flowering period:

5-10

Origin / habitat:

Borneo

Growth rate:

Normal

Maximum plant height:

4-5 meters, by pruning easy to keep at 100 cm or less