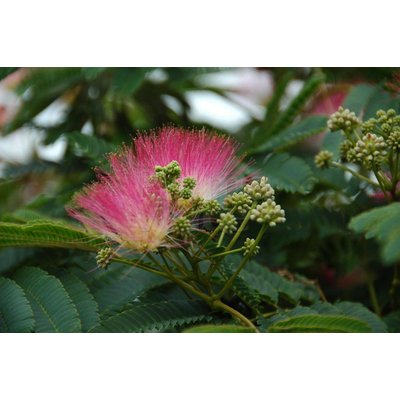 Bloemen-flowers

:

Albizia julibrissin

ALBJUL04
Availability:

In stock

Shipping within:

2 to 4 business days
Albizia julibrissin is also called Persian sleeping tree or silk tree. Blooms with dark pink fluff-like flowers from June to autumn ...
More information
Product description
Sorts:

Bloemen-flowers

Article number:

ALBJUL04

Availability:

In stock

Shipping within:

2 to 4 business days
Albizia julibrissin or Persian sleeping tree or silk tree as it is also belongs to the subfamily Mimosaceae, which also includes the Mimosa or Acacia. The Albizia julibrissin grows as a shrub or tree shape.
This Albizia julibrissin is not yet that much to see in our country and certainly not yet for sale on a large scale.

When the tree is in bloom from the end of June to October, many will be amazed by the beautiful bright pink / purple inflorescence. Albizia's bloom from their second or third year and the bloom becomes more and more reluctant as the Albizia grows older. 
The Albizia julibrissin gives an extra tropical accent to your garden and just to see the lush leaves on this tree, it is wonderful to see.
The Albizia julibrissin has double-sprung, sickle-shaped leaves that resemble a frond.

Leaves are folded at night, which is why it is called the sleeping tree.
Half an hour before the sun goes down, the leaves slowly close.
The silk tree (also called so because of the silky fine flowers) feels at home in a sheltered warm place in the full sun and is well hardy.

The more sun in the summer, the more it blooms and the stronger the new shoots will become. In a place where there is half shadow, the Persian sleep tree also does well.
The Albizia julibrissin does not demand much if it is not too acidic. Pruning is not necessary, if you want to prune than the best at the end of March.
The Albizia Julibrissin turned out to be surprisingly hardy, the winter of 2008/2009 has survived with us on an open surface -23ºC in a frosty period of 5 weeks.
Plants lose all their leaves in winter, young plants do not have side branches when delivered after winter, which appear again in the course of spring.
Protect young plants from frost until the trunk has a diameter of 2 cm or more, after which no winter protection is needed.
Winter hardiness zone 6a (-20ºC).
Specifications
Minimum temperature:

-20ºC (Protect young plants, see description)

Location:

Sunny, half shadow

Soil type:

No special requirements

Water requirement:

Light damp

Full ground:

Yes

Tub plant:

Yes

Flowering period:

6-10

Origin / habitat:

China, Far East, Mediterranean region

Growth rate:

Reasonably fast

Maximum plant height:

> 6 meters