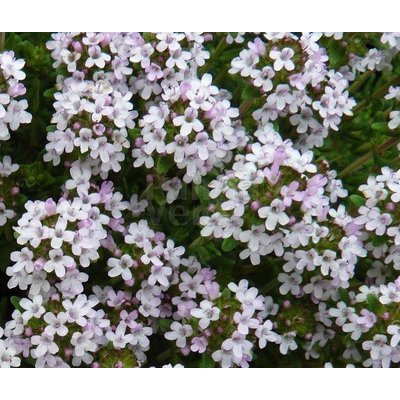 Bloemen-flowers

:

Thymus vulgaris - Thyme

THYVUL01
Availability:

In stock

Shipping within:

3 to 5 business days
Thymus vulgaris or Thyme delicious Mediterranean herb for the kitchen but also very beautiful in summer ...
More information
Product description
Sorts:

Bloemen-flowers

Article number:

THYVUL01

Availability:

In stock

Shipping within:

3 to 5 business days
Thymus vulgaris is a Mediterranean herbal plant that fits both in the herb garden and in the border. A place to the south finds tide all the more amazing, the warmer the better. This kitchen herb can not be missed as a cultivar.
Also known as the name of thyme, this deliciously aromatic plant is widely used in Mediterranean dishes such as pasta, pizza etc.
The small leaf smells very aromatic and can be used fresh and dried in different dishes.

The Thymus vulgaris blooms very exuberant with rose / purple flower clusters from May to September. This tide is also well suited for cultivation as a cultivar plant.
After planting, plant the plant back in shape, keeping it compact and full.
Every two months is fertilizing in the flowering season, regular watering in summer promotes growth.
Plants tolerate our winters if a mild winter is planted and sheltered where the soil is not too wet. Plants can cause frost damage, just prune well in early spring.
As a cultivar you can win him best over the freezing point.
Winter hardness zone 8b (-8 / -10ºC).
Specifications
Minimum temperature:

-8/-10ºC

Location:

Sunny, light shade

Soil type:

No special requirements, well permeable

Water requirement:

Normal

Full ground:

Yes, protection against moderate frost

Tub plant:

Yes

Flowering period:

5-8

Origin / habitat:

Mediterranean

Growth rate:

Reasonably slow

Maximum plant height:

50 cm