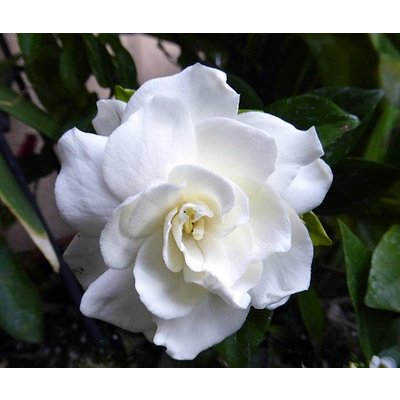 Bloemen-flowers

:

Gardenia jasminoides - Cape jasmine

GARJAS01
Availability:

Out of stock

Delivery time:

Temporarily out of stock
Gardenia jasminoides or Cape jasmine is a shrub with fragrant white flowers that alternately bloom throughout the summer ...
More information
Product description
Sorts:

Bloemen-flowers

Article number:

GARJAS01

Availability:

Out of stock

Delivery time:

Temporarily out of stock
Gardenia jasminoides or Cape jasmine is a shrub in the living room but also fine on the terrace in the summer months.
This truly wonderfully fragrant Mediterranean shrub blooms all summer. The origin of the gardenia is China and there are many species of Gardenia of which this species gets pretty large and fragrant flowers.
From May to far into late summer, this Mediterranean shrub thrives with white fragrant flowers.
The flowers have quite large sepals and the flowers are nicely filled.

Apart from the fact that this perennial is a very strong bloomer, the flowers smell exotic.
Especially in the evening they spread a wonderfully strong sweet smell over your terrace.
The Gardenia jasminoides grows quite slowly and can also be used in a small garden, even as a tub plant on your terrace it is an easy plant.
Furthermore, this Gardenia settles for a place in the full sun or light shade.

Adult plants can eventually become 100/120 cm high and 120/140 cm wide after many years.
However, this shrub is also good to keep in the desired size by pruning.
Pruning is best done immediately after flowering.
Before planting in the ground, put some potting soil in the planting hole and then plant it. Every spring a layer of peat litter the Gardenia finds delicious, they worship slightly acidic soil.
Winter hardiness zone 11 (10ºC).
Specifications
Minimum temperature:

10ºC

Location:

Half shade, light shade

Soil type:

No special requirements

Water requirement:

Normal

Full ground:

No

Tub plant:

Yes

Flowering period:

5-9

Origin / habitat:

China

Growth rate:

Slow

Maximum plant height:

100/120 cm