Winter preparation of garden

Protect your frost-sensitive plants from freezing by providing winter protection.
WINTER PROTECTION OF PLANTS
Not all plants are equally hardy and especially for frost-sensitive plants it is important to protect them from freezing in good time.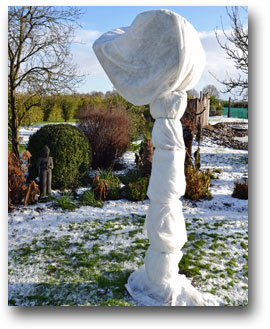 For some species it is sufficient to provide them with the right winter protection material, others may need to be reheated.
This depends on where they are located, the type of plant and the duration of a frost period.
We have already been providing this service since 2005 and have now built up a considerable customer base where we provide winter protection for the plants each year.
Experiences we have gained in our own example garden with various plants gives a good picture of the necessary protection that certain plants need.
There are customers who have been in the open ground for several years now (from 2009 onwards).
This type of palm trees tolerate little frost and the limit is -3°C for a not too long period.
In view of the fact that the last few winters were not particularly mild, these palm trees came undamaged through these winters.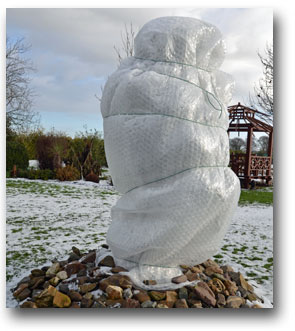 This really is a challenge for this type of palms, partly because they tolerate little frost, but also because they dislike moisture (which causes mildew/rotting of the group pear).
Rely not only on the plant covers that are available, this is often not enough for certain species despite what is promised.
Applying the correct insulation is one thing, but ventilation is also very important for palm trees, for example!
For example, an olive tree in the open ground needs a completely different approach.
If you want to provide your own plants with winter protection, you can always ask us for advice. You can find the winter protection materials on our website.
If you send us a message, we will make a quote.