Pruning fruit trees

Pruning fruit trees, when to prune which kind of fruit trees pruning, how to prune, rejuvenating pruning, waterlocks and short shorts
WHEN TO PRUNE AND WHICH SPECIES
There are different kinds of fruit and these are best pruned at different times.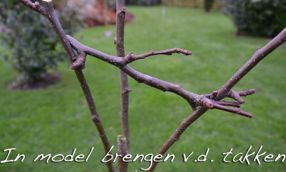 - First of all there are the pome fruits, such as apples, pears and khaki species. These are pruned in the winter months, from November to February, then there is no juice flow.
- Then there are the stone fruits such as peach, nectarine, apricot, apricot, almond, cherry, plum, etc. These are pruned at the end of March.
As a rule of thumb, you can keep in mind that all ascending branches should also be pruned. Only leave the horizontal branches standing.
Now that you have removed all the waterlocks, it is time for real work.
In the case of pome fruits, you can identify the spores by thickly squeezed branches that branch out.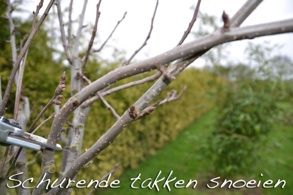 These are on the stem branches (main branches). To continue to promote the formation of the spores and thus a lot of fruit, you may prune these spores to 4-5 eyes.
From these eyes new shoots are formed and flower buds are formed.
In the case of stone fruits, you can also cut out the old wood at the end of March.
Especially for stone fruits you get a lot of fruit setting on young wood. Stone fruits have to be rejuvenated every 3 years.
So if you think in the case of the stone fruits that the rejuvenation of the stalk branches is important and you provide space in the crown, this irrevocably results in more fruits.
- For all fruit trees, branches that grow against each other should be removed.
- Stretch down branches that grow from the outside to the inside.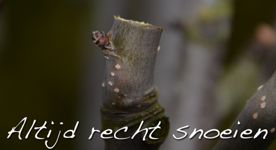 - Cut with sharp scissors and make sure that the cut is straight and angled. fruit tree pruning
- Pruning at the base of the branching in branches should be removed.
- During rejuvenating pruning, leave 4 to 5 eyes.
- Upward branches (water locks) may also be removed during the summer.
- Many short-term knots on a tree means a lot of fruit.
- An open crown, lots of sun and light, is better for the fruit.
- Vertical branches grow fast and produce little fruit.
- To remove 3 to 4 year old branches, they give considerably less fruit.
- Good and sharp tools are important, sharp cutting prevents fungal diseases and rot.