Delicious fragrant jasmines

Lovely scented jasmines that are hardy, but also various subtropical jasmine varieties with diverse scents.
Delicious fragrant jasmines
Of the flowering plants that are perhaps the best fragrances, the jasmine species should not be missed.
Throughout the year we have a varied range of various jasmines in different colours and sizes.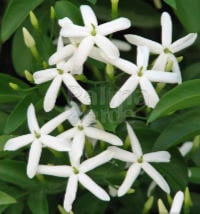 For example, there are fairly hardy species such as Trachelospermum jasminoides and Trachelospermum jasminoides Variegata, which are given white star-shaped flowers. Flowering strongly in the summer.
Trachelospermum Star of Toscane, has yellow fragrant flowers and also like the other Trachelospermum species a climbing plant that is winter green.
And then the good winter hardy Jasminum nudiflorum that blooms in the winter to April with fragrant yellow flowers.
The plant loses its leaves in winter, but the yellow flowers appear very richly on the bare wood.
There are also the (sub)tropical species such as Jasminum sambac also called Melati.
A very well-known plant for many people who know Indonesia well. 
Then there are the Jasminum molle or Indian jasmine and Jasminum nitidum.
Both blossom with astral white, strong smelling flowers.
The Jasminum species are also winter green, but have to stay above +5°C over winter.
All the above mentioned plants are climbing plants and can be well pruned to keep them in the desired proportions.
In summer the jasmines may be fertilized with plant food for flowering plants once every 4 weeks.
Species available:
- Trachelospermum species
- Jasminum species