Curly disease in prunus species

Curly disease or Taphrina deformans sometimes occurs in certain prune species but is well treatable
The leaves develop red-coloured deformities.
The affected shoots look swollen and the leaf is puckered, Taphrina deformans.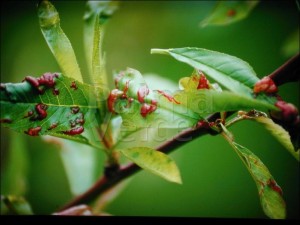 At a somewhat later stage, a white layer is formed and the leaf curls inwards. After that the blade falls off.
Often new leaves are created again, which is free of the leaf curling disease.
Later in season the the plant grows through it and has little further trouble with the curl disease earlier in spring.
If a tree has suffered from the leaf curling disease, you may subsequently add an extra gift of nitrogen containing manure.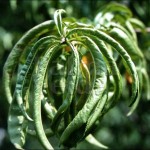 This allows the tree to resume growing faster when creating new leaves.
There are peach varieties that are more resistant to the curling disease such as the Prunus persica "Roter Weinbergpfirsich", but no variety is 100% resistant.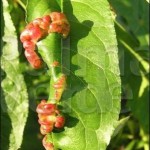 You should also not orientate yourself on a certain breed, fortunately the curl disease is to combat it at an early stage, gum disease.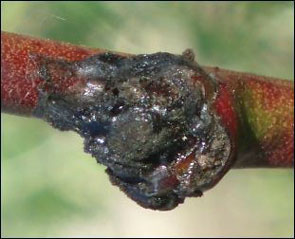 Often the so-called gum disease in prunus species is also seen. In random places, juice then emerges from the trunk which solidifies into a resinous substance.
The gum disease can also be a consequence of excessive fruit borne by the plant, which also drains the tree enormously.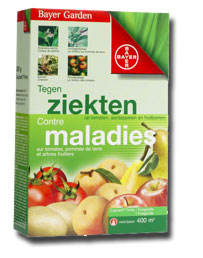 In order to counter this, you can remove branches with many fruits from a number of fruits. Bayer against curl disease An additional advantage is that the remaining fruits become larger as well.
You can prevent the curl disease as early as the end of February as the buds begin to develop.
You repeat the treatment every 12-14 days (maximum 3 treatments) until the blossom begins.
Then you stop the treatment with one of the following means.
Combination with various fungicide products based on copper oxychloride works fine, for example Bayer Cupravit Forte achieves very good results