Care of banana plants

Care and maintenance of winter-hardy banana plants, when pruning, what to fertilize, how protect in winter
PLANTING PLACE
A warm sheltered place is ideal for bananas. Protected because you can keep the blade whole for longer. On the other hand, torn banana leaf is also a beautiful appearance and it looks natural.
PLANTING FULL SOIL OR AS A TUB PLANT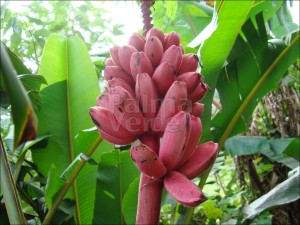 We have our own substrate (potting soil) for palms and Mediterranean plants. This substrate is ideal for the banana in the cockpit and contains all necessary organic substances.
Also for planting in the garden, a basis of this organic substrate in the planting hole is conducive to the plant and gives it a good start.
This also ensures a well-drained surface for the banana.
Typical bananas that are kept as pot plants and do not grow larger than about 175 cm are Musa velutina, Musa rubra, Musa zebrina and Musella lasiocarpa.
SPRING
Bananas that come from winter storage can look terrible. Don't give up the courage and banana too quickly. As soon as it gets warmer, the new leaf will appear again one after the other.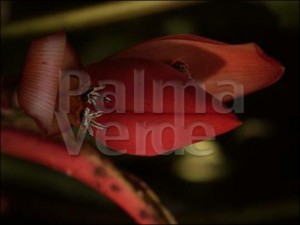 Aphid can occur if the plant has had too much water for a longer period of time or in the plant.
Early spring on the new young leaf sometimes some aphids may appear. The banana plant does not go down and control is simple.
Natural enemies of the lice are:
Ladybirds
Birds
Not chemical control:
Dissolve soap and spirit in plenty of water (20 grams of mild soap, 10 grams of spirit on 1 litre of water). Spray this on the lice, causing them to die.
Chemical control:
These pesticides are against different kinds of aphid, whitefly etc.
PRUNING
Simply cut away dried and ugly leaves, which initially fade slowly to yellow.
New leaves are added every week in the summer.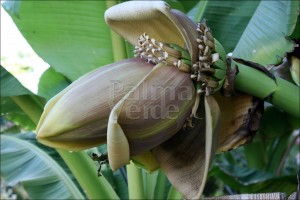 Before you place the banana in the winter storage you can cut all the leaves away.
If the banana is still too high then, for example the Musa basjoo or Musa sikkimensis become quite large, then just cut off the trunk at the height that fits.
In spring, new leaves will grow from the core of the trunk. In this way the Musa basjoo or Musa sikkimensis in the 3rd or 4th year can give a flower.
SUMMER
During hot days do not forget to water an extra gift. Bananas love a lot of water and grow fast when you give something extra in summer.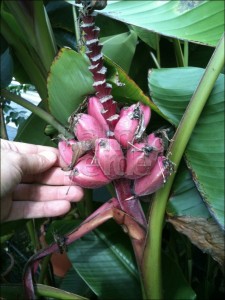 FERTILIZATION
Give the banana some liquid manure each time you pour from April to September, but you can also give other fertilizers such as grains.
Cow dunging grains or Culterra can be added every two weeks, however, this is not odorless.
If you use Fertilizzante mediterraneo you only need 1x per 6-8 weeks and this fertilizer is odorless.
Many fertilizers always mean to give a lot of water in the summer!
And bananas like to have a lot!
LEAF COLOURING
Yellow leaf in a banana is often due to insufficient fertilization and/or water.
Even if your banana has first been in the greenhouse and then goes outside in full sunshine, the leaves can also discolor.
To avoid this, it is better to keep the banana in the first 2 weeks of full afternoon sunshine.